Note: The case study below is for a former client, so the current site may not reflect our work.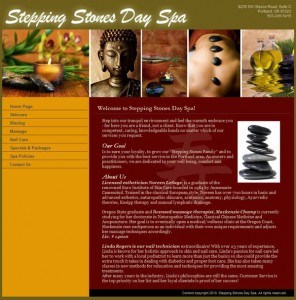 Client Name: Stepping Stones Day Spa
Category: Health & Fitness
Location: Portland, Oregon
Site Completed: September, 2010
with one additional page, custom color scheme, and custom header.
Project Details:
The folks at Stepping Stones Day Spa had a very specific idea of the look and feel they were after. This doesn't always work with a basic website package, however we were able to get to create the design using a template and customizing the header and colors.
Short Description of Business (from the website):
"Step into our tranquil environment and feel the warmth embrace you – for here you are a friend, not a client. Know that you are in competent, caring, knowledgeable hands no matter which of our services you request."
Testimonial:
"I have worked with Justin at Justin's Web Design twice now designing websites for 2 different spas that I have worked at. Our first website was fairly simple – we picked a template to use but had a customized header and footer. The hardest part was writing the text to have inserted into the template! Once we got all the text and pictures to him, Justin got our website up and running in a week. No small feat when I look back and see how much he had to guide us through because we were "newbies".
Our second website was more of an adventure. We picked a template but we customized the header/footer and the colors plus added more pictures. I must say that Justin did a great job of matching the colors we wanted because I did not have the name of the colors or the exact RBG. Once all the text and pictures were sent to him, Justin had the first draft ready in just a few days. We corrected a few grammar errors, moved a few pictures around and next thing you know, our website was functional and on the internet for all to see!
I also need to add that Justin is very patient. There were several times when I promised to get things to him on a certain day or time and I did not deliver on my promise. But Justin never got upset, he just patiently waited for my partners and me to get our act together and make decisions that needed to be made. And if we were uncertain about anything, Justin would make suggestions and let us go from there.
The best part of all is that Justin's prices are reasonable. As a new business, we could not afford to pay someone five or ten thousand dollars to build us a website. Yet we needed a professional site for our spa, not a site that looked like we had done it ourselves. Justin delivered a quality product in a timely manner at a reasonable cost. We could not be more pleased with his work and his professionalism.
So far everyone who has visited our website has raved about it! They love the layout, the colors, the ease of use, etc. You can see what a great job Justin did by visiting our website: www.steppingstonesdayspa.com.
Noreen LeSage
Esthetician/Co-owner
Stepping Stones Day Spa"