Note: The case study below is for a former client, so the current site may not reflect our work.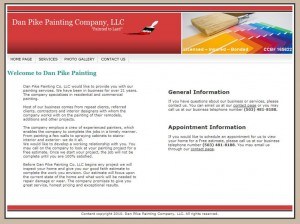 Client Name: Dan Pike Painting
Category: Painting Contractor
Location: Beaverton, Oregon
Site Completed: October, 2010
Project Details:
After having several prospects ask about a website, it Dan decided he needed to have one. His goals included adding credibility, being "found" online, and giving information to clients and prospects.
Short Description of Business (from the website):
"Dan Pike Painting Co. LLC would like to provide you with our painting services. We have been in business for over 21 years. The company specializes in residential and commercial painting."
Testimonial:
"Justin was great. I really had no idea what I wanted except something basic to explain our services and to be able to
add pictures to the website. Justin was very informative answered all my questions and gave suggestions. What amazed me the
most is once I got all the information together that Justin needed to design the website he had it up and running in 2 days. He did
an excellent job and I am very pleased with the outcome. Thank you Justin! www.danpikepainting.com "