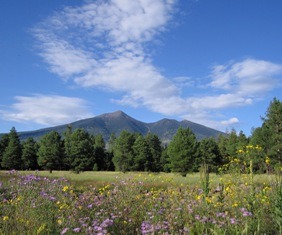 We arrived in Flagstaff a few hours ago. As you may or may not know, we (my wife and I) are traveling across the country building websites and having fun.
We just spent 6 weeks in Vegas, and that was a blast, and now we are ready for the next stop on our adventure. That's Arizona, and our first stop in Arizona is in Flagstaff. We are looking forward to seeing the Grand Canyon as well as several other wonders of nature that "live" in this little desert town.
Web Design in Flagstaff
I've spent a few minutes looking through the local ads, and see a stark lack of websites. I'm not sure if this points to a lack of interest in internet marketing, or a lack of education about the power of having a website. Either way, I'm looking forward to finding out.
Flagstaff Chamber of Commerce
On Monday or Tuesday I plan on contacting the chamber to see if I could put together a little seminar and help the locals learn more about internet marketing. These small businesses are my bread and butter and I know my web solutions can help them. The only tricky part will be figuring out the best way to spread the word.