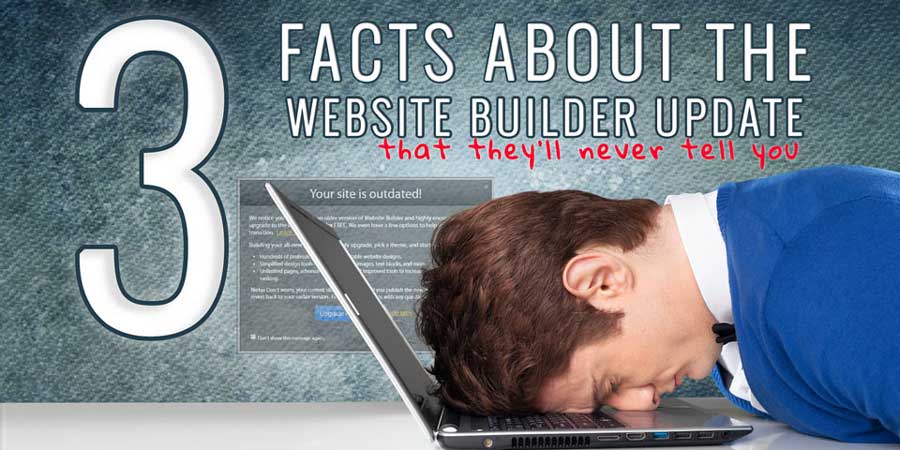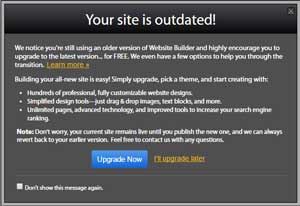 If you are using version 6 of the website builder commonly sold by GoDaddy™, you may have seen the notices that your site is out of date and needs to be upgraded. Before you hit that little blue upgrade button, you should know the facts…
#1 This is not a simple update.
They do not import your current site into a new version. You will have to completely rebuild your site from the ground up. You will need to choose a new template, customize the template, and manually add all the content from your existing site. Do you recall all the work that went into building your site in the first place?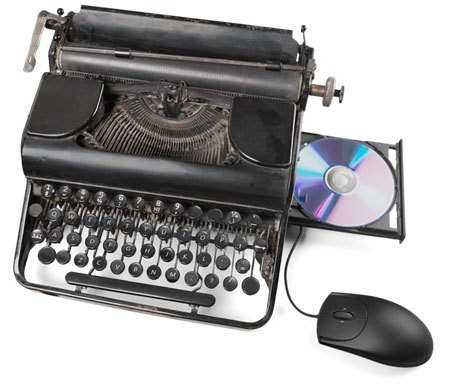 #2 Version 6 is being retired.
While the current message (as of 7/3/2016) says, "…highly encourage you to upgrade to the latest version…" it originally said you'd be required to update. I contacted them for clarification, and got the following message:
"Website Builder version 6 will eventually be retired; however, we do not have an ETA at this time on when that will occur. However, please be aware that version 6 will have features that will no longer be developed or supported as we go forward with the retirement of this product."
#3 Not all features will be available.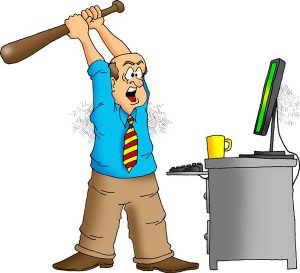 As you can see in the message above, even though version 7 is supposed to be better, it's currently missing some features that you might require. Additionally, while the new editor is arguably a better tool, you will face a learning curve. The new editor functions in a completely different way so again, you are starting from scratch.
3 simple solutions for handling your website upgrade
Below are a few options you have for handling this upgrade. As with most things on the internet, there are probably hundreds of options, but below are the top three in my opinion.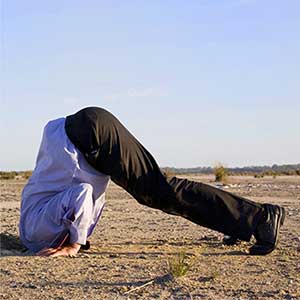 Option 1: Ignore It
For now, the update is just a recommendation. Originally they were going to force the upgrade, but due to the lost features, the backlash was too great. Now they have, at least temporarily, changed it to a recommendation. Of course, your website will remain outdated, and there's no telling when they will force you to upgrade in the future. Considering you'll need to upgrade at some point, it probably makes sense to do it sooner than later, because you'll start receiving the benefits of a more modern website as soon as you upgrade.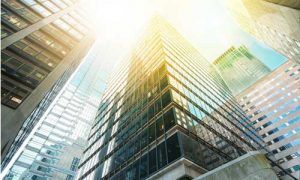 Option 2: Hire GoDaddy™
If you purchased the website builder through GoDaddy™, you could get their facelift package. My understanding is that the cost of this is $199-$399, depending on how many pages you have. They also have complete web design packages that run from $499-$2499.
Option 3: Hire Me
Okay, so now we're getting down to brass tacks. You've probably already guessed that, while I am a nice guy who likes helping people, I'm not taking time out of my busy schedule to write this article just to help you avoid an unpleasant upgrade experience. I have an ulterior motive. If you are unhappy with your site, frustrated that you have to learn a new system, or just agree that your site is outdated, you might decide it's time or a change.
My basic website package is a great bridge between the do-it-yourself builder and hiring a webmaster. The website is professionally built for you, and then you can use an easy drag-and-drop editor to make future changes or updates. Not only does this save you all the time and frustration of creating the site from scratch, it also means that your site will have the look and performance of a professionally-built website—because it is one.
Okay. I could go on for pages about all the reasons I think my package is best, but it doesn't really matter at this point. If you're happy with what you have, you'll probably choose one of the first two options. If not, check out the info below.
Try Before You Buy
If you replace your site with one I build, I think you'll be shocked at the difference in quality. To prove my point, I'm willing to create a mockup of your site at no cost, with no obligation, no credit card, and no BS!
Fill out the form below and I'll send you a temporary site that, while not complete, will give you a great vision of what your new site could look like.
Note: These mockups are custom-created and may take a few days. By the way, if you are coming to this article because of an email you received, you can just reply to that email and ask for a mockup.
Get More Details
If you have questions or want more details, feel free to contact me.

**We are not affiliated with GoDaddy™. GoDaddy™ is a registered trademark of GoDaddy.com, LLC.
[tcm id="2″]